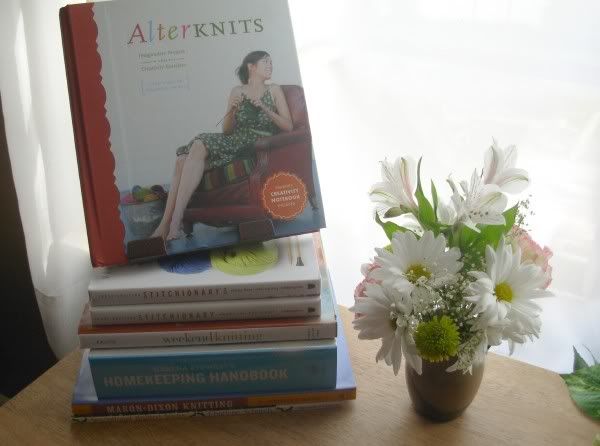 Hello there.
So I finally got with it, at the urging of a growing number of persuasive people who made compelling arguments: this is my new little bloggythingmeebob. I'm not new to weblogging, but this space out amidst the ether shall be my entrée to the knitblogiverse. I'm not entirely sure that I can sustain a blog of
just
knitting-related content, so I hope the other bits I share here are of interest at least to some of you -- traveling, books & music most definitely, what I'm whipping up in the kitchen now and then, goofy/interesting/amazing things my friends are up to, fun things I've discovered, and the like. I'll try to keep things interesting. ;) Well, enough with the boring quasi-introduction. I have finished objects to share with you. Oh yes, do I.
Wait, is it okay to start with a clarification? Erm, I've only
really
been knitting since Christmas. I say "really" because, well technically I started when I was about seven. My endless string of clumsy garter stitch made in horrible acrylic yarn was a good place to start as any, I suppose. My fingers only needed a five minute refresher tutorial from Mom over a cuppa tea to get right back into the swing of things. I was smitten from the (re)start, but since that first blush, we've been working on making it a deep and abiding love. I think this one's for serious.
My very first knitted thing that was not rectangular... Peekaboo Mittens for me!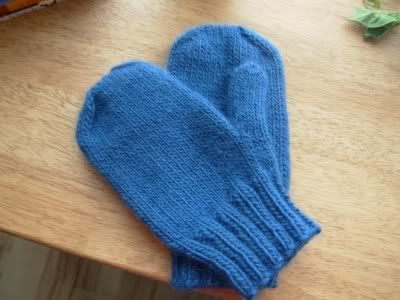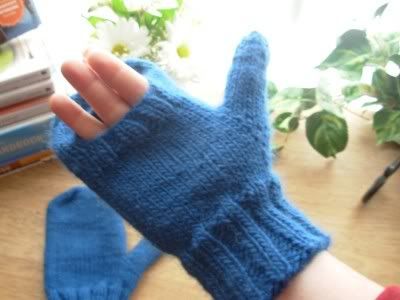 Pattern:
Peekaboo Mittens from Pensive Frog (published in Feb07 MagKnits)
. I made the larger gauge version.
Yarn:
Lamb's Pride Worsted (85% Wool, 15% Mohair) in Aztec Turquoise (I think)
Needles:
Vintage Susan Bates DPNs US 7, set of 5. These were my grandmother's.
Mods:
My hands are on the small side, so I shortened the body of the mitten by one round. In retrospect, they would have been fine as written. I went with a 2X2 ribbing on the cuff to match the detail around the finger opening.
Isn't this just a great idea?! I really love the concept, and so I was really pleased to find that they work like a charm. I have to say, these are already my most favorite mittens ever. I've only had the opportunity to wear them three or four times as Spring has Sprung in my part of the Southern U.S., but they really do the job of keeping my hands warm (mittens are warmer than gloves, you know) without slowing me down any with having to take them off and on. I've gotten lovely compliments on them everywhere I go, and my dad and sister have already asked me to make a few more. I was thinking that I might do some embroidery on the back of the hands, maybe my first initial. Thoughts?
Dashing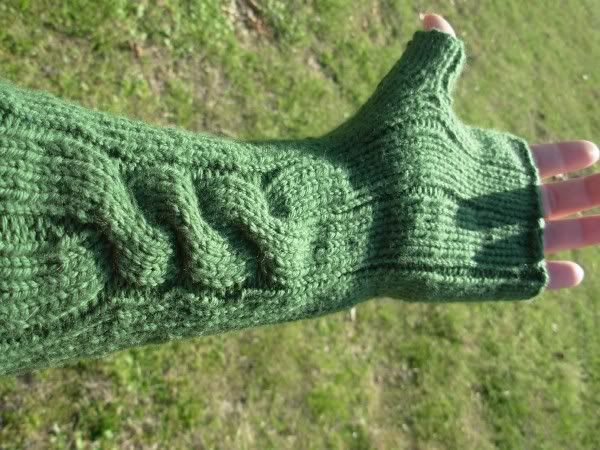 Pattern:
Dashing by Cheryl Niamath (published in Spring07 Knitty)
Yarn:
KnitPicks Swish Superwash (100% Superwash Wool) in Dublin
Needles:
Clover Bamboo DPNs US 7, set of 5
Mods:
None.
I knit these up for
my dear friend Tiffany
. I have a second pair on the needles already for my friend Samantha, too. And after I finish those up, I think I'm going to have to make myself a pair. The Swish Superwash is very splitty, which is annoying, but I love the way the knitted fabric turns out, so it's worth a bit of hassle on the creative end, I suppose. And the machine-washable part is great too. This is an enjoyable knit. I think the cabling makes for a nice embellishment without making them feel fussy.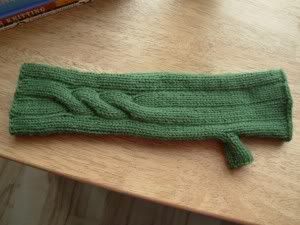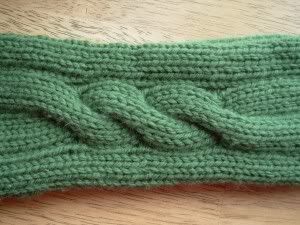 I have a few other FOs in the cedar closet, but at the risk of turning an already picture-heavy entry into... well, more of one, I'll stop there. More to come.
*'Cause I'm a joyful girl
Because the world owes me nothing
And we owe each other the world
I do it because it's the least I can do
I do it because I learned it from you
I do it just because I want to
Because I want to
- ani difranco "Joyful Girl"